Services and Products provided are;
-Professional tuning and servicing of bikes
-Performance engine works including modifications and gas porting of cylinders.
-Suspension tuning and setups.
-Specializing in Honda CBR400RR Fireblades and Kawasaki Ninja ZXR's.
-Kit parts from HRC,Yamaha and Kawasaki.
-Professional builders of 2 and 4 stroke race bikes like Aprillia,Honda,Kawasaki and Yamaha.
-Agents for Ohlins,Goodridge Hoses,K&N Filters,HRC,HARC Pro Racing,Muzzy's Performance and JE Pistons.
-Racing Services.
Latest win at the Johore Race Series 4 at pasir Gudang Circuit,Malaysia.
Rider-Matt Patterson,Kawasaki ZXR750
Open Class-Expert Category
Dealer and Retail Pricing for all products pls e-mail for quotations;
We offer
-professional race porting of 4 cylinder bike cylinders from .00.
-porting of 2 stroke cylinders from .00.
-HRC Race parts
-Factory Jetting Kits
-Specialized top performance package for Honda CBR400RR Fireblade starting .00.
-Aprillia,Yamaha,Kawasaki,Honda parts and acessories.
onerace@starhub.com.sg
Performance works for the Honda NSR250's also availiable!
-Used HRC Harness and Cards,010-020-030
-Professional cylinder and suspension setups
-TYGA stainless steel pipes,HRC Replica Pipes,Used JHA.Dogfight Pipes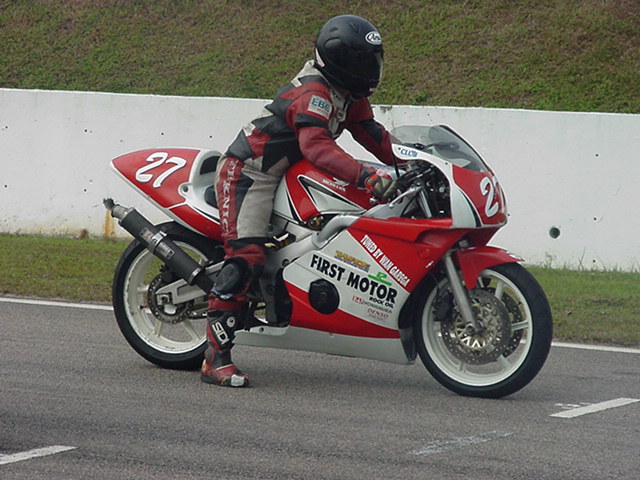 Our race winning Honda CBR400RR Fireblade!
-Performance head work
-HRC Kit
-Ohlins suspension
-race bodywork
-K&N Filters
onerace@starhub.com.sg